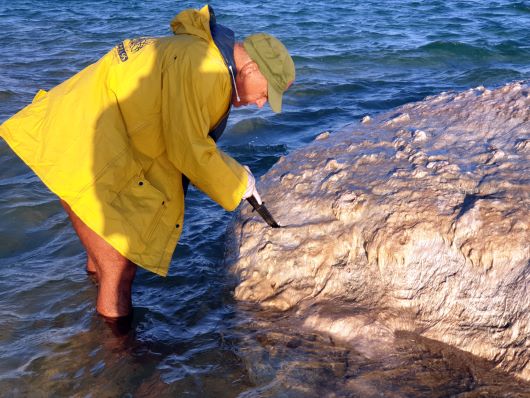 On the first September 2019 the body of a dead Sperm Whale was washed ashore at Bel-Ombre south of Mauritius, in front of the Sofitel Beach Hotel and Spa.
 MMCO ask for permission to inspect the dead animal. The authorization took a few days to be processed.
When MMCO finally had authorization to make observation on the whale, the body  had been cut in two parts by the authorities.
Preliminary observation made on the animal described an animal in an advanced state of decomposition. It was quite destroyed. The animal was almost completely white and has lost all its initial coloration. The head down to the rib cage was lying in shallow waters and the back part of the body was floating some 70 metres away in1.80 metres of waters.
Observation made on the head and part of the trunk allowed the identification of the animal as an adult sperm whale. The mandible (lower jaw) had been sawn off. A large part was missing around and in the thoracic cavity. The ribs were broken in a half circular form and the blubber and flesh on the rib cage had shark bites.
The heart was the only complete organ still visible in the cavity and had no fish bites on it.
Maybe because of the high level of blubber the smell was not disturbing.
MMCO made some observations on part of the body, took some measurements and took some samples of blubber and bone from the dead animal.
We hope that the result of the samples tells about the identification of this animal that could well be one of the 78 animals we are following since 2011.